Builders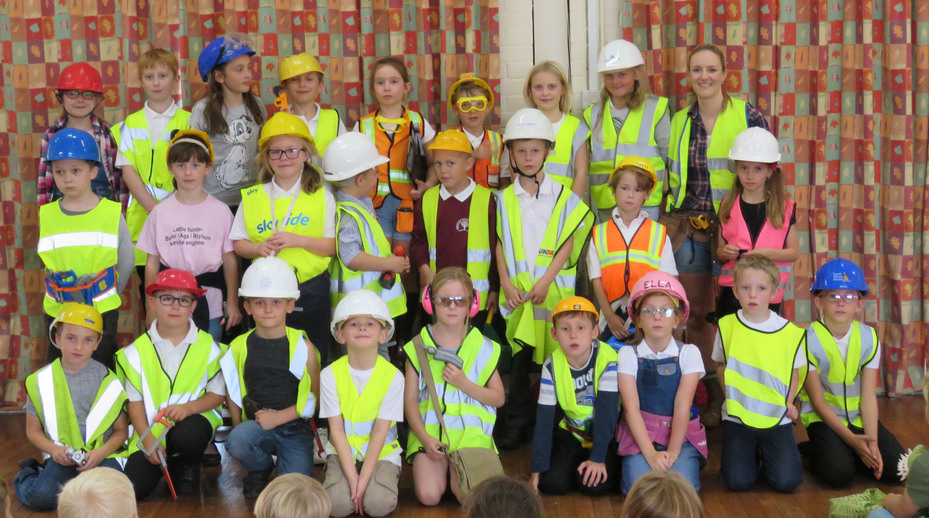 Autumn Term 1
Wow, that was a busy first half term for the Builders!
We have been settling in to life at the Junior School and getting to know our way around. We are enjoying our bright, new classroom, visiting the library and playing on the trim trail, which we chose to visit for our pom pom reward time. (At lunch times we collect pom poms for fantastic manners, being kind to others, great teamwork skills and playing nicely at the end of the week the class with the most pom poms in their jar wins - we have won twice!)
This term we have been working on improving our handwriting using the school's letter-join handwriting style and it's really coming on. For some Builders it might even not be very long before they get a pen license!
Our topic - Tribal Tales - involved learning about the Stone Age, Bronze Age and Iron Age and culminated in an exciting trip to Beaumanor Hall where we got to decode Celtic runes, visit a roundhouse and taking part in Celtic warrior training. This part of the day was our highlight! The day was split into 3 parts, kicking rotting Roman heads (not real) through a goal, throwing spears at Willaby – the training horse (again not real) – and charging with swords and shields at an advancing Roman army (partly real except it was just one Roman soldier – Miss Barton!)
I'm sure our next topic will be equally fantastic, even Scrumdiddlyumptious…
Autumn Term 2
The builders have devoured the learning this term and really enjoyed our Scrumdidliumptious topic!
We have written some brilliant stories about the adventures of evil Escapea and the courageous Supertato, practising adding interesting details to our writing. We have also begun to learn how to show that characters are talking, using inverted commas, looking at how to punctuate speech correctly. We finished off our writing to entertain focus in English with some poetry writing and performances inspired by the poem 'The Best Chip'. We have cubbled chips and chomped chocolate cake and made ourselves truly hungry!
Builders have also become 3 times table superstars this half term, we've really enjoyed chanting rhymes on our way to assembly and learning our multiplication facts as we sing our version of Blurred Lines!
In topic we have packed in so much learning: from discovering the nutrients our bodies need and why we need them, to food hygiene and how to pack a fridge! We have also designed healthy lunch boxes and created our own fruit smoothies. It really has been a 'jam-packed' half term.
I'm looking forward to seeing if 'we can be heroes...just for one day' when we start our next topic after Christmas.
Have a great Christmas and Happy New Year from the Brilliant Builders!
Spring Term 1
Homework