Tigers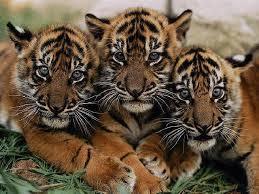 Autumn Term 1
Wow, that was a busy first half term for the Tigers!
We have been settling in to life at the Junior School and getting to know our way around. We are enjoying our bright, new classroom, visiting the library and working hard to collect merits.
This half term we have been learning about the fascinating world of animals. We have been looking at predators and learning about who eats who! We can express this in the form of food chains and food webs, correctly using arrows to show the flow of energy through the food chain and we've learnt some brilliant scientific vocabulary – producer, consumer, apex predator and even photosynthesis! This was supported by our trip to Twycross Zoo which was perhaps the highlight of our topic.
We have designed our own apex predators and even our own carnivorous plant, the Tigers are great designers and there have been some very imaginative creations.
In PE we have played 'predator games' looking at attacking and defending techniques as well a practising some key skills.
During our English lessons we have been working on improving our handwriting using the school's letter-join handwriting style and it's really coming on. Some Tigers are working hard and I know are aiming to get their pen license before Christmas! We've also been learning the main word classes and can now confidently explain the difference between common and proper nouns, adjectives and verbs. We've been writing descriptive sentences and used dictionaries and thesauruses to help edit and improve our word choices.
In maths we've begun our number work and mastered the art of measuring. We have measured ourselves using tape measures and string and have put our labelled string in a jar so we can see how much we have grown by the end of the year!
Next term will be a long but exciting topic as we run up to Christmas. I am trembling with excitement and I know you'll be erupting with anticipation.
Autumn Term 2
We've literally been trembling with excitement this half-term as we have learnt about
volcanoes and earthquakes. We have looked at the structure of the earth, which involved us making a model using Plasticine. We've smashed eggs and discussed tectonic plates as well as practised our atlas skills in order to locate some of the world's most active volcanoes. During our learning about earthquakes we have put our building skills to good use, designing and constructing an earthquake proof structure. We are well prepared and know exactly what to do in the event of an earthquake (highly likely in Ibstock), practising our earthquake drill in the classroom (this involved a very loud siren and Miss Barton dropping dictionaries on the tables while we hid underneath!)
Our writing this term has been about the volcanic eruption which destroyed the city of Pompeii. We have learnt some fantastic sentence types. We have also written information leaflets about earthquakes.
In art we have researched Picasso and have created a self-portrait in his style. I must also say that some of the homework that has come in has been absolutely fantastic! We definitely have some brilliant budding reporters and geologists as well as some superb cameramen and camera women.
Here's to a scrumdidliumptious next term!
Homework
Homework to be in by Monday 11 February