Autumn Term 1
What an exciting first half-term Dahl class enjoyed together! In the first few days we completed many getting to know each other and team building activities; these really helped us to bond as a class. One of the most enjoyable activities was creating our very own dream jar. As a class we took turns to add glitter, paint, water and cotton wool to a jar and stirred it carefully. As we added each ingredient, we each made two wishes that we hope will come true during our time together in Year 4. The children have written their dreams down so we will revisit and reflect on them at the end of the year. Our class made an extremely impressive effort on class dress up day, the costumes and ideas were fantastic, thank you to parents for your support.
Our topic this half term was Burps, Bottoms and Bile, where the children learned all about the digestive system. As you can imagine some of our experiments this half term have been rather messy. We began by cleaning our teeth in class, then chewing a plaque disclosing tablet to reveal how good a job we had done. Investigating the effect of sugary drinks on tooth enamel by placing egg shells in assorted drinks and leaving them for a week provided us with some enlightening and rather stinky evidence. Finally, we created a model of the digestive system and modelled the journey of the food through the entire system from the beginning in the mouth, to the very end…
After such a positive start to the year, I look forward to the next half term with Dahl class, during which we will learning all about the Romans in our topic and putting on a performance which I hope you all enjoy.
Mrs Collishaw
Homework
Homework due on 17th December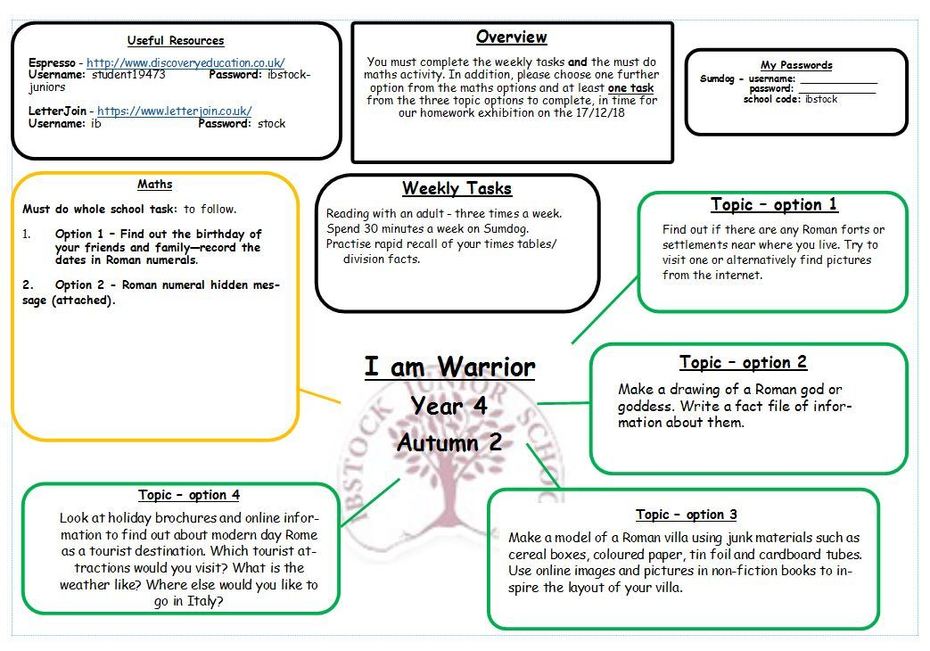 If you choose to present your homework using a computer, you can email it to us at y4o@ibstock.leics.sch.uk. Please put your class and name as the subject.