Autumn Term 1
We have had a busy but enjoyable start to the year. All the children have had a good, settled start to Year 4.
Our first topic was about Ancient Romans in Britain and what they left behind. This work involved; the story of Remus and Romulus about how the city of Rome became to be; map reading, to track the rise of the Roman Empire; the use of and the construction of roads and we researched what the life was like for a Roman soldier based at Hadrian's Wall.
In English, we have completed a lot of writing. The children have worked to the best of their ability to produce excellent pieces of writing. These include, informal letter writing from a Roman soldier to a loved one, writing a descriptive setting based on a photograph of their choice and a retelling of myth King Midas and the Golden Touch. The children have worked extremely hard to produce writing for the purpose of entertaining the reader.
In Mathematics, we have been concentrating on the basics. We have completed work on; place value and why it is important, addition and subtraction strategies and we have followed our school's calculation policy, which can be found on our school website, for long multiplication.
Autumn Term 2
Another extremely busy half term for the Scientists. The whole of Year 4 excelled in our interpretation of Pirates of the Curry Bean. The children worked incredibly hard to learn their character roles, songs and dances. Others worked equally hard to produce props and scenery.
As the production was so labour intensive, we focussed on more practical based lessons. The children made interactive Water Cycle models, tried our hand at weaving and even used our map reading skills to locate different mountain ranges around the world. The children really got in to the spirit of these practical lessons and their end results were amazing.
In English, they have written some brilliant explanation texts for the water cycle and recounts about how to make different models.
In maths, we have practised using the four operations and in the last couple of weeks and adding and subtracting in Roman Numerals.
Well done everyone, keep up the hard work.
Spring Term 1
Spring Term 2
Summer Term 1
Homework
Homework due Friday 13th July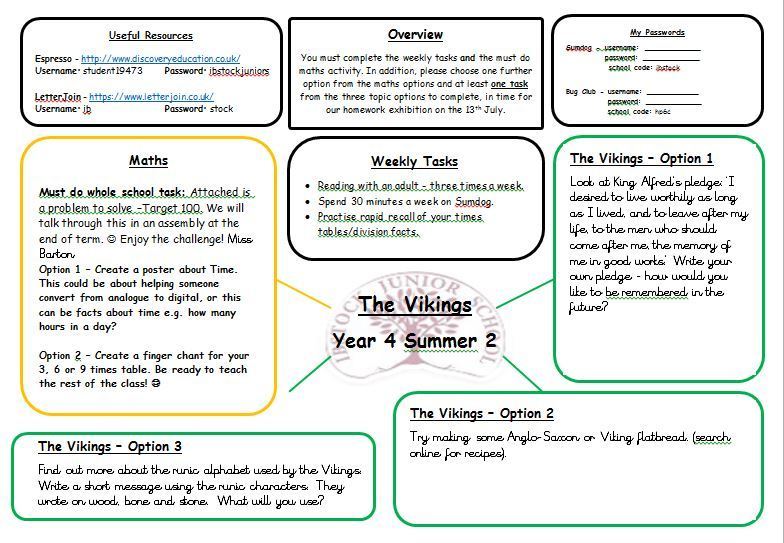 If you choose to present your homework using a computer, you can email it to us at y4o@ibstock.leics.sch.uk. Please put your class and name as the subject.