Autumn Term 1
We have had a busy but enjoyable start to the year. All the children have had a good, settled start to Year 4.
Our first topic was about Ancient Romans in Britain and what they left behind. This work involved; the story of Remus and Romulus about how the city of Rome became to be; map reading, to track the rise of the Roman Empire; the use of and the construction of roads and we researched what the life was like for a Roman soldier based at Hadrian's Wall.
In English, we have completed a lot of writing. The children have worked to the best of their ability to produce excellent pieces of writing. These include, informal letter writing from a Roman soldier to a loved one, writing a descriptive setting based on a photograph of their choice and a retelling of myth King Midas and the Golden Touch. The children have worked extremely hard to produce writing for the purpose of entertaining the reader.
In Mathematics, we have been concentrating on the basics. We have completed work on; place value and why it is important, addition and subtraction strategies and we have followed our school's calculation policy, which can be found on our school website, for long multiplication.
Autumn Term 2
Another extremely busy half term for the Scientists. The whole of Year 4 excelled in our interpretation of Pirates of the Curry Bean. The children worked incredibly hard to learn their character roles, songs and dances. Others worked equally hard to produce props and scenery.
As the production was so labour intensive, we focussed on more practical based lessons. The children made interactive Water Cycle models, tried our hand at weaving and even used our map reading skills to locate different mountain ranges around the world. The children really got in to the spirit of these practical lessons and their end results were amazing.
In English, they have written some brilliant explanation texts for the water cycle and recounts about how to make different models.
In maths, we have practised using the four operations and in the last couple of weeks and adding and subtracting in Roman Numerals.
Well done everyone, keep up the hard work.
Spring Term 1
What a great way to start the new year, an informative and interesting visit to the Sea Life Centre in Birmingham. During the trip we saw many unusual fish, read informative facts and sat through a entertaining 4D experience. This was a great way to engage the children to our new topic term the Blue Abyss. We then looked in depth at weird and wonderful creatures that roam our seas and oceans. We have looked at scaled drawings of our favourite marine animals and created fact files. In science, we have identified primary producers, primary consumers and secondary consumers and looked at different food chains both on land and at sea.
In English, we began our year writing haiku poems about a marine animal we saw on our trip. These included of metaphors, similes and powerful vocabulary which the children worked on beforehand. We have worked hard to consolidate some of our grammar terminology and skills to improve the basics of our writing. We have finished this half term by writing a journey tale to the bottom of the ocean. The children were very successful and included a lot of the features and descriptive words and phrases.
In Maths, we have been consolidated our understanding of division. Looking at the number line grouping method and the bus stop method (these can be found on our website). The children have enjoyed reasoning and problem solving with division. We have started to look at fractions towards the end of this half term and finding equivalents with percentages and decimals. The children have worked exceptionally hard to cement their 4 and 8 times table. This has been a great success and the children have made lots of progress.
Spring Term 2
This half term, our topic has been 'Burps, Bottoms and Bile', which we linked to our English work. In English we have focussed on non-fiction texts such as an information text. This is a factual piece of writing, where the children are expected to write formally and use techniques such as sequential conjunctions, causal conjunctions and rhetorical questions to hook the reader. The children tried exceptionally hard to write a class shared write about the importance of exercise and an independent write about how to live a healthy life. We all have learnt more about the importance of being healthy and exercising more regularly. Hopefully, they will use this knowledge in to their adult life.
In Maths, we have finished off our fractions unit, using the bar model to answer difficult fractions of whole number questions and identifying decimal equivalents. We have looked in detail at comparing and ordering decimal numbers and finished the term with statistics. The children have enjoyed Maths this half term and have made significant progress with their times tables – we even came 3rd in the Leicestershire Sumdog Competition!
Our topic this half term has included lots of science experiments looking at the digestion system and our teeth. We also did a separate topic based around sound. This was facilitated by the kind people at St Denys church which we went and looked and rang its bell. They also arranged for us all to go to visit the Bell Foundry museum in Loughborough to kick start our sound topic! This was a fascinating trip.
Summer Term 1
What a fantastic half term for the Scientists and I'm sorry I missed most of it! This half term has been jam-packed full of trips, science experiments and art.
Our topic this half term has been potions. We have worked together to investigate states of matter, the viscosity of liquids, filtration and evaporation. The children have thoroughly enjoyed this hands on approach to learning.
During English, we have been writing to entertain. We began the half term looking at different types of poems and we wrote our list poem about school. George's Marvellous Medicine was by far our favourite, allowing us to write exciting, descriptive stories, whilst bringing out our mischievous side. We have covered lots of different topics in Maths, including data handling, shape, angles, position, direction and time. We have had visitors from a Synagogue in Leicester and also visited a Synagogue for ourselves. This gave us a true experience of Judaism and allowed us to appreciate the fascinating religion.
The highlight of this half term has to be our trip to Ilam Hall in Dovedale. We had a wonderful time and enjoyed every second! We learnt how to read maps, find landmarks and how to work as a team to complete physical tasks
Homework
Homework due Friday 13th July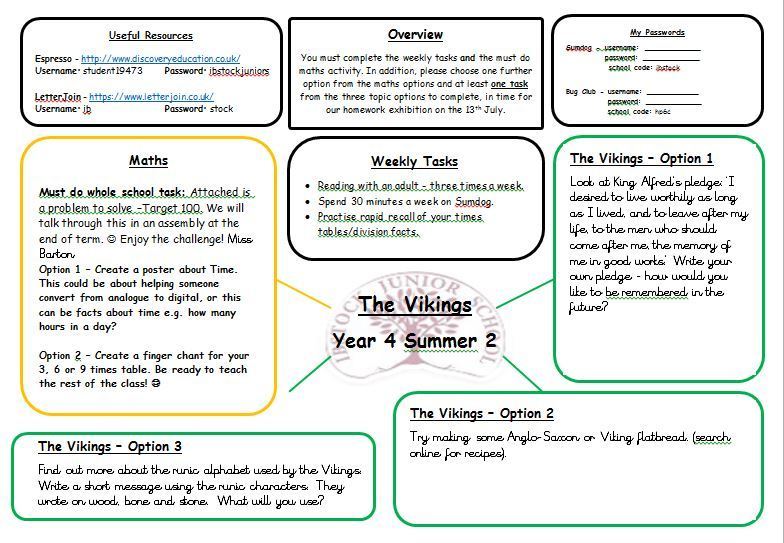 If you choose to present your homework using a computer, you can email it to us at y4o@ibstock.leics.sch.uk. Please put your class and name as the subject.