Autumn Term 1
The Detectives have had a brilliant start to year 4. We have been working collaboratively and independently on more difficult tasks. This half term we have been studying the Romans. We used drama to re-enact the story of Remus and Romulus; about how the city of Rome became to be. We have improved our map reading skills to find Roman roads and Hadrian's Wall, which isolated the Romans from the dreaded barbarians. Rome is a beautiful city and so we designed and constructed our own Pantheon, using various materials.
We have worked hard in English so far. We began the year with a myths and legends story and focussed on improving our writing skills to entertain the reader, using various 'Alan Peat' sentences to enrich our work. The children adapted their writing around the story of 'Midas and the Golden Touch' and successfully wrote innovative and adventurous stories. Since then, we have used our knowledge of Hadrian's Wall to write a letter from a soldier living at the wall.
In Maths, we have been looking at place value and formal written methods for addition and subtraction. The children have used concrete apparatus first (base 10) to help them with their understanding. To stretch the children further, we introduced them to more difficult reasoning problems that require the children to problem solve and challenge their understanding.
Autumn Term 2
This half term has been an exceptionally busy one! The Detectives have worked hard to cement their 4 written methods in mathematics. The children have worked on multiplication and division and how to apply and reason with these. As a class, we have prioritised learning our times table and becoming increasingly more fluent with our 3 and 4 times tables.
This half term we have focussed on writing to inform. The children have written a non-fiction explanation text about the water cycle. Through our topic lessons, we have researched and modelled this process allowing us to have a clear understanding to work from. The children used various writing techniques and structural devices to aid their writing.
In topic, we have looked in detail at different types of mountains and how they are formed. The children enjoyed learning about famous mountain ranges and various continents. Within our mountains topic we have looked at the Adi tribe, who are situated in the Himalayas. The children found this fascinating and we recreated tribal weaving inspired by the tribe.
The highlight to this half term will have to be our performance 'The Pirates of the Curry Bean'. The children worked extremely hard to learn their lines, songs and create props and backgrounds. The play was enjoyed by all and gave each child the opportunity to perform on stage.
Spring Term 1
The Detectives have had an exhilarating start to 2018. We began our year visiting the Sea Life Centre in Birmingham. This gave the children a chance to see marine wildlife first hand and inspire them for their at, topic and writing. This half term we have been studying the Blue Abyss. We have looked in depth at weird and wonderful creatures the roam our seas. We have looked at scaled drawings of our favourite marine animals and created fact files. In science, we have identified primary producers, primary consumers and secondary consumers and looked at different food chains both on land and at sea.
We began our year writing haiku poems about a marine animal we saw on our trip. These were jam-packed full of metaphors, similes and powerful vocabulary. We have worked hard to consolidate some of our grammar terminology and skills to improve the basics of our writing. We have finished this half term, learning, innovating and inventing our own journey tales to the bottom of the ocean.
In Maths, we have been consolidated our understanding of division. Looking at the number line grouping method and the bus stop method (these can be found on our website). The children have enjoyed reasoning and problem solving with division. We have started to look at fractions towards the end of this half term and finding equivalents with percentages and decimals. The children have worked exceptionally hard to cement their 4 and 8 times table. This has been a great success and the children have made lots of progress. Ask them to show you their 4 and 8 times table using their fingers – go on I dare you!
Spring Term 2
This has been an exciting half term! Our topic has been 'Burps, Bottoms and Bile', which has given us great inspiration for our Literacy. Throughout Literacy, we have focussed on non-fiction texts such as an information text. This is a factual piece of writing, where the children are expected to write formally and use techniques such as sequential conjunctions, causal conjunctions and rhetorical questions to hook the reader. The children tried exceptionally hard to write a class shared write about the importance of exercise and an independent write about how to live a healthy life. In Maths, we have finished off our fractions unit, using the bar model to answer difficult fractions of whole number questions and identifying decimal equivalents. We have looked in detail at comparing and ordering decimal numbers and finished the term with statistics. The children have enjoyed Maths this half term and have made significant progress with their times tables – we even came 3rd in the Leicestershire Sumdog Competition! Our topic this half term has included lots of science experiments looking at the digestion system and our teeth. We even visited the Bell Foundry museum in Loughborough to kick start our sound topic!
Summer Term 1
What a fantastic half term we have had! This half term has been jam-packed full of trips, science experiments and art. Our topic this half term has been potions. We have worked together to investigate states of matter, the viscosity of liquids, filtration and evaporation. The children have thoroughly enjoyed this hands on approach to learning. During Literacy, we have been writing to entertain. We began the half term looking at different types of poems and we wrote our list poem about school. George's Marvellous Medicine was by far our favourite, allowing us to write exciting, descriptive stories, whilst bringing out our mischievous side. We have covered lots of different topics in Maths, including data handling, shape, angles, position, direction and time. We have had visitors from a Synagogue in Leicester and also visited a Synagogue for ourselves. This gave us a true experience of Judaism and allowed us to appreciate the fascinating religion. The highlight of this half term has to be our trip to Ilam Hall in Dovedale. We had a wonderful time and enjoyed every second!
Homework
Homework due on Friday 13th July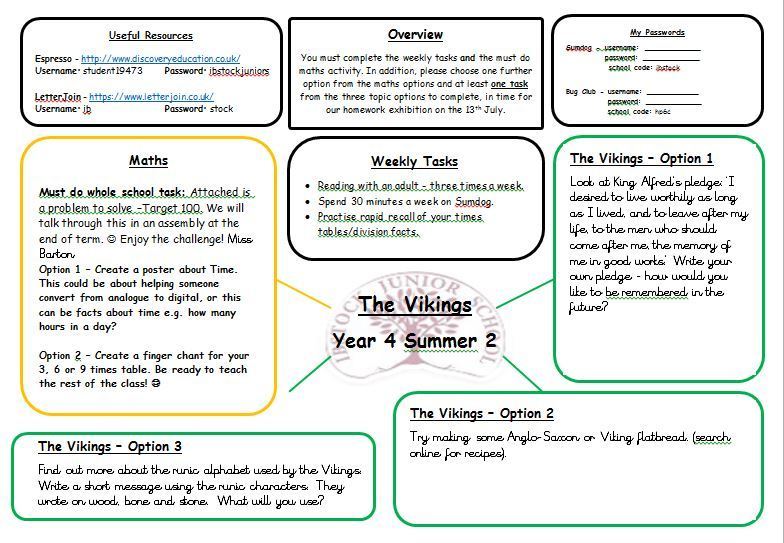 If you choose to present your homework using a computer, you can email it to us at y4o@ibstock.leics.sch.uk. Please put your class and name as the subject.