Tolkien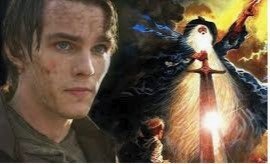 Autumn Term 1
What a busy half term! The children have had a wonderful beginning to year 6, showing determination and resilience to trying new experiences and striving towards their goals. We began the year with a gruesome dissection of a sheep's heart. The children's faces were a picture! This gave us a greater understanding of the different components and functions of a human heart. We have made blood and used Stop Frame animation to model how oxygen is transported around the body. In English, we have used these experiences to write exciting information texts, both a recount and an explanation text. Within our Maths lessons, we have been consolidating our place value knowledge and arithmetic skills. This half term has definitely been a whirl wind of exciting events and activities, we even fitted in making pizzas!
Autumn Term 2
What a long, but brilliant half term! The children in the Tolkien class have been learning the ins and outs of the Second World War. As an immersion activity, we were evacuated at to Beaumanor Hall, here we learnt about the Hall's importance in the war, it's secrets and how to decode German messages. After this exciting experience, the children wrote letters home from the view of an evacuee. Within English, we have also written a rags to riches tale about the Kinder Transport evacuation from Germany. During Maths, the children have been learning about fractions, whilst continuing to improve their arithmetic skills. The fraction work has been challenging but fun and they have tackled many difficult problems along the way.
The children have also had dodgeball lessons, made hand stitched poppies and expressed their views on charity during our RE lessons. To finish a fantastic half term, the children took part in an inter-year group dodgeball tournament, taking on the difficult opponents - Rowling class.
I look forward to seeing what an exciting spring term lies ahead!
Merry Christmas!
Spring Term 1
What a brilliant start to 2020! The children have been learning all about the polar regions and explorers who have visited. Throughout this half term, we have looked in great detail at what life was like on the Titanic and the tragic event that occurred. The children have researched the geography of the poles and compared daylight hours with England. The children are able to use science specific vocabulary to navigate around the globe and understand the diverse terrain, which both poles have. The children have looked at classifying living things, adaptations of animals and bio diversity. Researching animals which are brave enough to live in such hostile conditions.
The children have been very persuasive with their writing this year. Complaining about the Christmas Santa provided and the mess he left behind - these were very entertaining and allowed the children to be creative, humerous and at times sarcastic.
In maths, the children are still working hard to master their arithmetic knowledge but now focusing more on problem solving. The children have enjoyed tackling different questions and drawing on their prior knowledge to help them with this.
To top off a fun packed half term, the children have been learning (during PE) Bhangra dancing, a fun and exciting way to exercise!
Homework
For this half-term, the children in Year 6 will be set homework from the following workbooks on a weekly basis.
Knowledge Organiser
| | |
| --- | --- |
| Spring 2 | |
| | |
| Spring 1 | |
| | |
| Autumn 2 | |
| | |
Autumn 1