Donaldson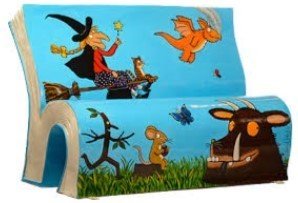 Autumn Term 1
In Donaldson we started off our year with the topic of "Burps, Bottoms and Bile". Kicking it off by using plaque disclosure tablets in class and brushing our teeth (NOT FOR THE FAINT HEARTED). Independently, the children then wrote instructions on how to brush your teeth – ASK THEM AT HOME! We then delved deep into our topic by looking at the digestive system as well as the impacts of several famous scientists on the world of medical science. This culminated in a biography of biologist, Edward Jenner.
We have also been exceptionally lucky to experience some music experimenting with rhythm and learning about a new faith – Sikhism. In maths we have been working on our place value and moved onto addition and subtraction.
On theme day we dressed up as our favourite characters from Julia Donaldson's books. We also wrote a letter to the author telling her that we named our class after her – we're still waiting on a reply!
Autumn Term 2
This term was a little different for us in Donaldson. As a part of the Year 4 team we performed our play production of 'Zoom!'. The children came together to produce a fantastic performance for both family and the school that they can rightly be proud of. Since the performance we have seen children in our class become more outgoing and confident around school which is lovely to see!
Our topic for this term was 'I am Warrior.' The focus of which was on the Romans. The children focused on Geographical skills by identifying different regions of Europe that the Romans ruled as well as what it would be like to be a Roman soldier for a day. The children have retained some fantastic knowledge from our Knowledge Organisers and lessons.
In Maths we have focused on learning formal methods for addition, subtraction, multiplication and division. After Christmas, we will be moving onto fractions which the children are very excited about! For English our focus has been on writing to entertain, where the children have been writing about setting and character descriptions based several books. Included were 'Where the Poppies now grow' and 'The Christmas Truce'.
Next term, Donaldson will be moving onto our new topic of Potions! Expect many conversations at home about Harry Potter as we begin to learn to write how to persuade.
Spring Term 1
In Donaldson we have been lucky enough to be learning all about potions. As a part of this the children had the opportunity to write a persuasive letter of complaint. Working especially hard alongside Mr Carte, the children produced some ACE pieces of work! In maths, we have been learning about fractions and decimals. The children have overcome a number of difficult concepts showing perseverance and enthusiasm. Alongside our topic, the children have conducted a number of experiments this term, including creating their own potions and testing the viscosity of different liquids.
At the back end of this term we were lucky enough to take a trip to the National Sealife Centre in Birmingham. We got to see a wide range of creatures such as stingrays, sharks, turtles and octopuses. Lots of the children are looking forward to our new topic the 'Blue Abyss' which we will start after half-term.
Spring Term 2
have particularly enjoyed our latest topic of the Blue Abyss. Many of them have been encapsulated by the range of sea creatures we have been learning about as well as studying the Great Barrier Reef.
In our writing we have written a series of 'Defeating the Monster' stories. The children worked especially hard on this piece of writing, with many of them writing significantly more than ever before! I have been especially proud of them for their efforts in writing this term.
The children have been in the privileged position to take part in Forest Schools in the Spring Term. This has involved making shelters, fires and SAFELY climbing trees. The children have really enjoyed this and want to thank Mr Carte, Mrs Toon and Mrs Bond for providing them with this experience.
After Easter, we have a brand new topic to discover focusing on the science behind sounds. If anyone asks, you didn't hear it from me okay?
Summer Term 1
Homework
Homework to be in by
If you choose to present your homework using a computer, you can email it to us at y4o@ibstock.leics.sch.uk. Please put your class and name as the subject.
Please click here to download the Year 4 Ilam Hall YHO Presentation.