Aztecs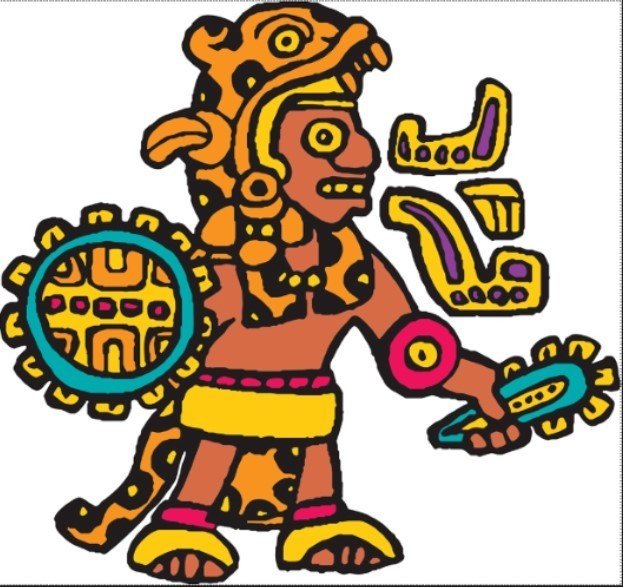 Autumn Term 1
The Awesome Aztecs have had an excellent first term back to school, and are now well under way with life in the upper juniors. Our topic this term has been 'Princes, Paupers and Pestilence' – all about the start of the Tudor period right through to the Great Plague of 1665. As we are situated close to the site of the Battle of Bosworth and the last resting place of King Richard III, we chose to venture to the Richard III museum in Leicester, where we embarked upon a fun-filled day exploring this exciting period of history. At the museum, the year group split into three groups, and began our activities. They explored around the excellent museum; a tour around the city to view the historic landmarks (including the castle gardens) and finally an exciting workshop where we dressed a knight in armour. Here, pupils had the opportunity to handle artefacts and objects that would have been used in battles such as Bosworth – even a sword. Thankfully, no limbs were lost (well-done Year 5).
Our writing has helped our knowledge of the Great Plague and the Wars of the Roses, creating a detailed report about these time periods. The quality of writing has been excellent and pupils have used their Knowledge Organiser well to remember key facts. In art, we have produced some Tudor portraits of Henry VIII and Anne Boleyn and created our very own Tudor Roses – you can see these proudly on display in the classroom.
An excellent first topic and a brilliant start to life in Year 5 – well done Aztecs!
Autumn Term 2
The longest term yet has left us filled with knowledge and new skills, but in year 5 we are definitely ready for the Christmas break! Our project, Alchemy Island, was based around the theme of change – from the ancient science of alchemy, where people tried to change lead into gold, through to experiments involving changing of state and irreversible and reversible changes. We produced some interesting reactions when mixing substances together – fountains of gold were created when combining hydrogen peroxide, potassium iodide and some dish soap! Alas, no real gold was made, but we'll keep trying.
In our writing we explored film narratives with the excellent short 'The Alchemist's letter' and pupils wrote their own versions using their amazing entertaining writing skills. We then moved onto creating our own 'portal' stories – where a character is transported to a fantasy land and have to find their way back. We studies famous stories such as The Lion, The Witch and the Wardrobe and produced some brilliant stories – very entertaining.
The theme of Alchemy Island involves the class (suspending belief for a moment) travelling to the mysterious island to follow a riddle and discover exciting things along the way. In the style of a fantasy role-laying game, we then made out own games called 'Alchemy Island 2: The Return' and we can't wait to play them. We used a range of skills to make these, most notably our collaboration and team work skills, as well as lots of creativity and design flair.
The countdown is now on for our next project. 10…9…8…7…6…5…4…3…2…1…0…
Spring Term 1
5…4…3…2…1…BLAST OFF!
Aztecs have been sent zooming on a learning journey through space and time; exploring the farthest reaches of our universe, including Leicester. It was to Leicester that the pupils boldly went to continue their Year 5 mission to seek out new knowledge and uncover strange new facts. Armed with these facts, the pupils carried out detailed research into our Solar System (using toilet roll…ask them all about it!) as well as learning about the history of space travel. One small step at a time.
Elsewhere in our science learning, we uncovered more about gravity – experimenting with forming craters, investigating our 'mass' and 'weight' on different planets and re-creating Galileo's famous experiment with a hammer and a feather. We followed our own lines of enquiry to complete our own experiments into gravity and enjoyed testing our hypotheses.
In our writing, we created an exciting fact-file about the Solar System to inform our readers, as well as a sensational newspaper article about a shocking alien break in. Shocking!
Pupils had some brilliant questions and were disappointed that the project had to come to an end – me too! Next up, we head back in time…to the land of the pharaohs…
Homework
Homework to be in by Monday 30th March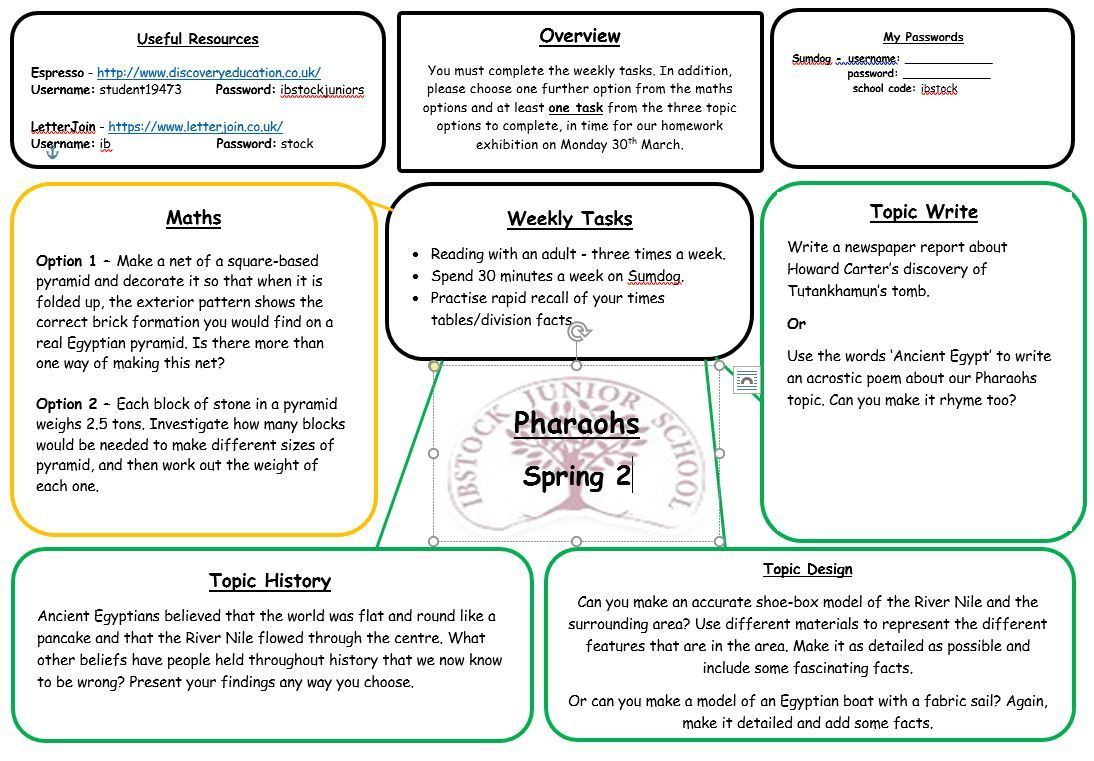 Knowledge Organizers
| | |
| --- | --- |
| Spring 2 | |
| | |
| Spring 1 | |
| | |
| Autumn 2 | |
| | |
| Autumn 1 | |
| | |