Egyptians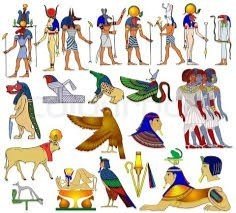 Autumn Term 1
The Excellent Egyptians have had a fantastic first term back to school, and are now well under way with life in the upper juniors. Our topic this term has been 'Princes, Paupers and Pestilence' – all about the start of the Tudor period right through to the Great Plague of 1665. As we are situated close to the site of the Battle of Bosworth and the last resting place of King Richard III, we chose to venture to the Richard III museum in Leicester, where we embarked upon a fun-filled day exploring this exciting period of history. At the museum, the year group split into three groups, and began our activities. They explored around the excellent museum; a tour around the city to view the historic landmarks (including the castle gardens) and finally an exciting workshop where we dressed a knight in armour. Here, pupils had the opportunity to handle artefacts and objects that would have been used in battles such as Bosworth – even a sword. Thankfully, no limbs were lost (well-done Year 5).
Our writing has helped our knowledge of the Great Plague and the Wars of the Roses, creating a detailed report about these time periods. The quality of writing has been excellent and pupils have used their Knowledge Organiser well to remember key facts. In art, we have produced some Tudor portraits of Henry VIII and Anne Boleyn and created our very own Tudor Roses – you can see these proudly on display in the classroom.
An excellent first topic and a brilliant start to life in Year 5 – well done Egyptians!
Autumn Term 2
The Egyptians have had a fantastic half-term in the lead up to Christmas. They have fully immersed themselves in our topic Alchemy Island – where we have journeyed on a quest to find gold. The quest began with a map and a riddle. Using their mapping skills, the class were able to identify human and physical features and created their own contour map of the Island. On the journey around the island, we collected different samples to investigate. The class then used their skills of scientific enquiry to explore the different materials, used the methods of sieving and filtering to separate the materials, and mixed different substances to create some interesting reactions. A highlight of the topic for the class, has been using their D&T skills to not only make electrical circuits, but to also design and make their own board games with themselves as avatars.
In English, we have been writing to entertain. We started by creating some scary, but accurate character descriptions of the Witches from Macbeth. The class used thesauruses to improve their word choice and used word thermometers to rate the effectiveness of their word choices. We then moved on to writing a film narrative based on the short film clip 'The Alchemist's Letter'. The writing was amazing, it really captured the setting and the emotions of Verideon, the main character. We completed the term, by writing portal stories. We explored a range of film clips based on portal stories and used these to inspire our writing. The class really enjoyed editing a digital image on line to create their own portal and were really creative when inventing a fantasy world.
In Maths we have continued to look at increasing our confidence and knowledge of the four operations. We have applied these to a range of increasingly complex problems.
Another highlight of the term has been futsal coaching for the class. Those who love football soon realised the differences, adapted quickly and were able to show off some great ball skills. Even the children who do not particularly enjoy football had a great time and really threw themselves into the fun skill games Mr Kendrick introduced them to.
We are looking forward to refreshing and spending some time at home with family over Christmas and then returning in the new year (and new decade) for more fun learning experiences.
Spring Term 1
5…4…3…2…1…BLAST OFF!
The Egyptians have been sent zooming on a learning journey through space and time; exploring the farthest reaches of our universe, including Leicester. It was to Leicester that the pupils boldly went to continue their Year 5 mission to seek out new knowledge and uncover strange new facts. Armed with these facts, the pupils carried out detailed research into our Solar System (using toilet roll…ask them all about it!) as well as learning about the history of space travel. One small step at a time.
Elsewhere in our science learning, we uncovered more about gravity – experimenting with forming craters, investigating our 'mass' and 'weight' on different planets and re-creating Galileo's famous experiment with a hammer and a feather. We followed our own lines of enquiry to complete our own experiments into gravity and enjoyed testing our hypotheses.
In our writing, we created an exciting fact-file about the Solar System to inform our readers, as well as a sensational newspaper article about a shocking alien break in. Shocking!
Pupils had some brilliant questions and were disappointed that the project had to come to an end – me too! Next up, we head back in time…to the land of the pharaohs…
Homework
Homework to be in by Monday 30th March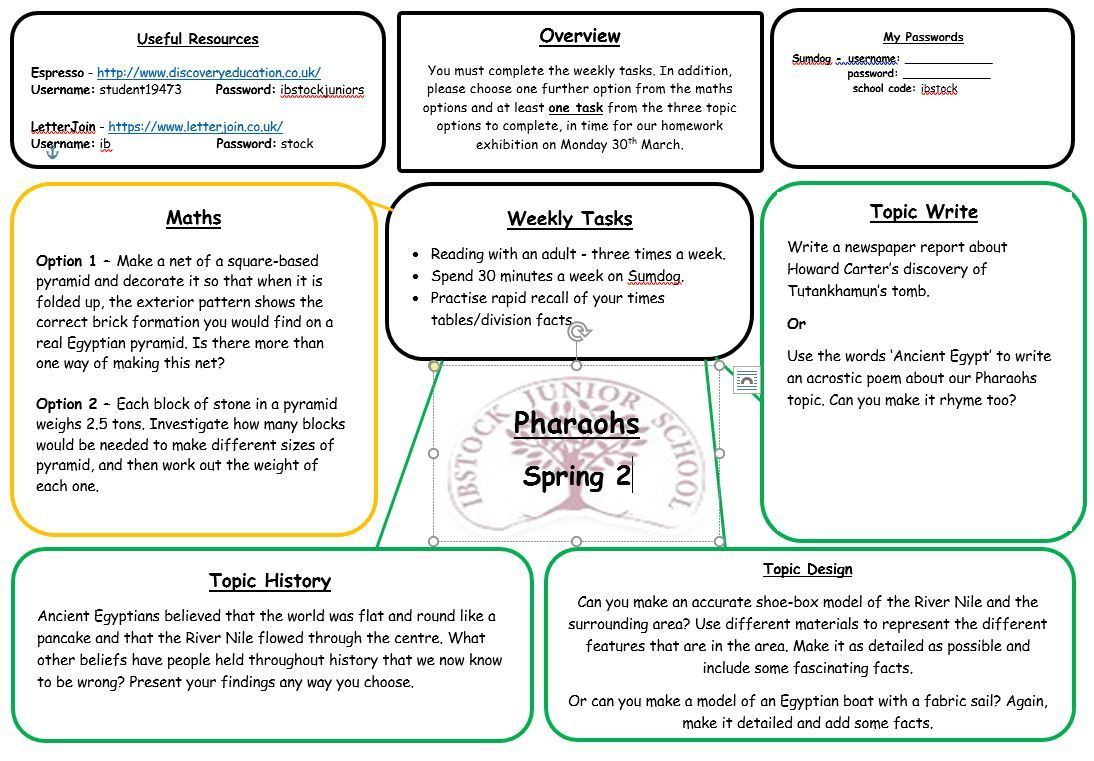 Knowledge Organizers
| | |
| --- | --- |
| Spring2 | |
| | |
| Spring 1 | |
| | |
| Autumn 2 | |
| | |
| Autumn 1 | |
| | |