Coronavirus - School Information
Please visit this page to see work packs that have been put together by your child's teacher.
Coronavirus COVID-19
We are operating social distancing at Ibstock Junior School, adhering to government guidelines.
Updated 30/03/20 at 13:47
Please be aware that the children's work pages have been updated, with each year group now having their own page for resources. Click here to visit the landing page, which will redirect you to the pages you require.
____________________________________________________________________________________________
Updated 25/03/20 at 13:15
If you have concerns about a child's safety whilst the school is closed please read the attached letter by clicking here. This will allow you to get in touch with the school with regards to any safeguarding concerns that you have.
Similarly, the government has advised that people should be social distancing. For reasons why everyone should be social distancing, please read this document.
____________________________________________________________________________________________
Updated 24/03/20 at 13:03
A letter has been sent to those parents defined as key workers. Following the most recent government guidance, we must again stress that school remains open to those children whose parents are key workers. The diagram below shows who key workers are: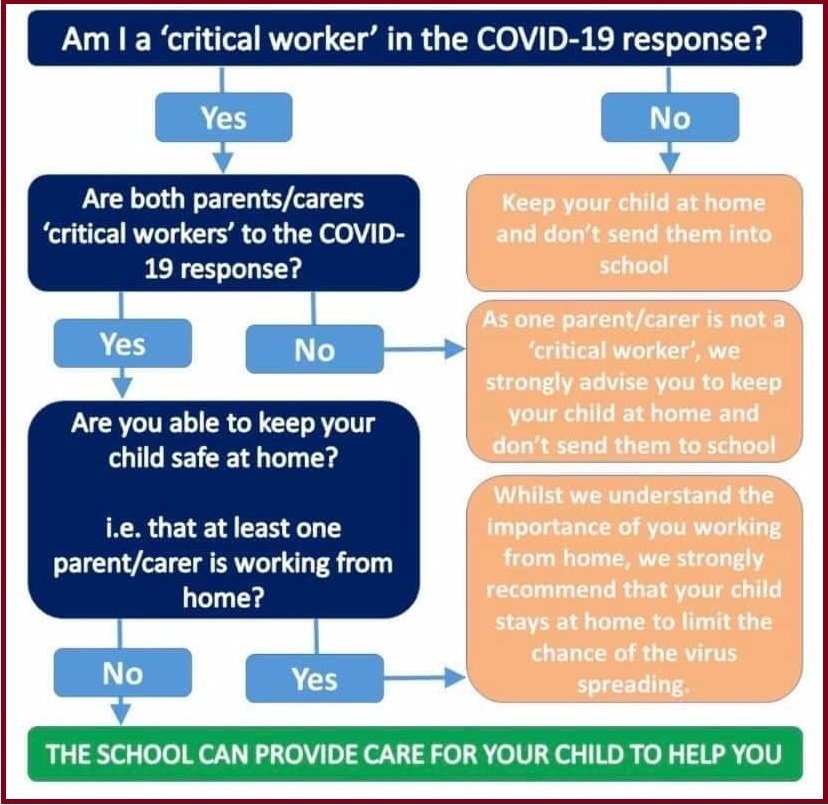 Key amongst the new measures introduced by the Prime Minister yesterday were:
Requiring people to stay at home, except for very limited purposes

Closing non-essential shops and community spaces

Stopping all gatherings of more than two people in public
If you work in a critical sector outlined in this guidance, or your child has been identified as vulnerable, you can continue to take your children to school.
You can read the full letter by clicking here.
____________________________________________________________________________________________
Updated 20/03/20 at 07:01
Advice from the government released just before midnight
https://www.gov.uk/government/publications/coronavirus-covid-19-maintaining-educational-provision/guidance-for-schools-colleges-and-local-authorities-on-maintaining-educational-provision
Please note, the school is being requested to offer childcare to those children who cannot be kept at home so that the virus has a reduced chance of spreading, including via journeys to school and through contact with school staff. Please pay attention to these paragraphs from the document.
That is why the government has asked parents to keep their children at home, wherever possible, and asked schools to remain open only for those children who absolutely need to attend.
It is important to underline that schools, colleges and other educational establishments remain safe places for children. But the fewer children making the journey to school, and the fewer children in educational settings, the lower the risk that the virus can spread and infect vulnerable individuals in wider society.
The school will spend today planning how to fulfill the government's request. School will be open to some pupils on Monday morning 23rd March, but it is unlikely that everyone mentioned on the above list will be offered a place straight away. There are still a lot of unanswered questions which I am hoping I will get clarity on during the day. Mr Lewin
____________________________________________________________________________________________
Updated 18/3/20 at 20:26
Ibstock Junior School will be closed to most pupils after this Friday. An email has been sent to all parents with the information currently available to schools from the government. Please let the office know if you think you are classified as a 'key worker' by the government e.g. police, ambulance, nurse, fireman.
____________________________________________________________________________________________
Updated 18/3/20 at 09:05
Please be aware that Dress Down Day (Friday 20/3/20) and Chocolate Bingo (Wednesday 25/3/20) have been postponed.
Similarly, if you have children at the Infants School and have had to take them out of school due to them displaying COVID-19 symptoms, please inform the school office immediately. Thank you.
If you and your child are self isolating please tell the office so that we can mark your child as absent for the next 14 days. You then do not need to call in again to notify us of absence. Please note, we are experiencing high call volumes and are asking people just to call in an emergency or to notify us of absence in the normal way. Please use this web page for updates concerning the coronavirus.
____________________________________________________________________________________________
17/3/20 at 10:20:
Understandably, we are getting many queries about the school's response to the Coronavirus (COVID-19). Since it is such a dynamic situation with advice changing daily, we have created this webpage so that parents can access the latest advice we have been given and the school's response to it. By asking parents to look on the website, we can also reduce calls to school and provide more detailed information than we can by text. (ibstockjuniorschool.co.uk/home)
Most importantly, the prime minister announced last night:
Anyone with a fever or continuous cough should stay at home for 14 days. Anyone who lives with someone displaying coronavirus symptoms should also stay at home for 14 days.
The Department for Education have issued this guidance on 16/3/20:
· staff, young people and children should stay at home if they are unwell with a new, continuous cough or a high temperature to avoid spreading infection to others. Otherwise they should attend education or work as normal
· if staff, young people or children become unwell on site with a new, continuous cough or a high temperature they should be sent home
· clean and disinfect regularly touched objects and surfaces more often than usual using your standard cleaning products
· supervise young children to ensure they wash their hands for 20 seconds more often than usual with soap and water or hand sanitiser and catch coughs and sneezes in tissues
The advice also goes on to say:
Current advice remains in place: no education or children's social care setting should close in response to a suspected or confirmed COVID-19 case unless advised to do so by Public Health England.
The Chief Medical Officer has advised that the impact of closing schools on both children's education and on the workforce would be substantial, but the benefit to public health may not be. Decisions on future advice to education or children's social care settings will be taken based on the latest and best scientific evidence, which at this stage suggests children are a lower risk group.
What this means for pupils and parents of Ibstock Junior School:
Any child who appears unwell with either a fever or continuous cough will be sent home and the family advised that the government are asking for a 14-day isolation for the whole family. Therefore if one child is ill, we will be asking for all siblings to be collected as well.
The school will continue to stay open whilst we have sufficient staff.
All school trips will continue unless they are to a confined space e.g. a museum or the swimming pool.
Work packs have been created for each year group: these will be available in the foyer
Online resources are available from links on this page.
Other issues the school has to consider:
If there are not enough staff the school will have to either close or operate a reduced timetable.
If the St Denys kitchen closes due to lack of staff, our school might have to close as it would on a 'snow day'
The government may instruct the school to close – we would of course follow this advice immediately.
Residential trips for Years 4 and 6 might not be able to go ahead.